Dear Miyuki and Juliet, 
Thank you so much for your help during the period when I got waitlisted by Berkeley. I am very glad that I could meet you in such a time period. Thank you for your dedicated work when helping me editing my essay, you would not only focus on the wording but also the style of writing that the college admission would like to see. Through your help, I also learned a lot about wiring skills. It is such a good news that I finally got in Berkeley, my dream school with your help. I am very grateful for meeting you both. Thank you again for helping go through that difficult process. --- Cindy. W

Hi Miyuki,
I wanted to thank you for the help you've provided me throughout my college apps, whether it's reading all of my different essays or helping me look at different colleges. I really appreciate your positive attitude and I have no doubt that all your other students do too. Thank you for being patient with me and helping me get things together even when things got messy.
As you maybe already know, I was admitted to Rice! I'm super excited for the years to come, and thank you for helping me get here.    Thanks again,  ---  J. W. 
Thank you so much for mentoring through my college application process and giving me support when I needed it the most.    --- A. Z (The student is admitted to Stanford)
Thanks so much Miyuki!
I just want to say I really appreciate your help and assistance during college application season. I know I was probably a difficult student to deal with and that my writing skills weren't the best but you helped me get through all that and make it to Berkeley. I really really appreciate your hard work.    Kindest Regards,   --- R. H.
Hi Sherry !
Thank you so much for helping me with school, college, and life in general over these past few years! Your continuous support and straightforward advice was a major part in motivating me to do my best, especially in this last stretch during college application season as was your willingness to help me in any way possible. Your methods of applying to college especially, such as having editors to help me, meeting with me yourself to make sure that my works' directions were correct, and holding a final review of my application before submission, all exceeded my expectations and made me feel supported and bolstered my drive every step of the way land definitely resulted in more heartfelt discussions than I had expected. Besides just wanting to do well, I also strived to match your level of dedication and hard work during this whole process so that I could honor your time as well!
In addition, thank you for introducing me to the Stanford research program and encourage me to apply. Besides begin a redefining level of "intense", I felt that I really got a taste of an experience with no limits on expectations. Most importantly, the people I met there wear the best group of friends I've met in the course of my entire high school career - and because of Springlight, I can still meet up with them and keep in touch.
Thank you again for all your help and support! I really appreciate it! ---A.H. 2019. Accepted by UChicago
I can never express my gratitude enough that my daughter got help from you during the stressful college preparation and application process! 
She was admitted to Uchicago in 2017, not only because of her outstanding academics and activities in leaderships, but also mostly importantly, it was because of your overall strategy designed for her based on her strength and background.
Your kindness and accountabilities were the most memorable! After all, you are super resourceful and creative thinking to inspire your students to reach their goals and targeted college. It is worth of investments to get help from you for every college applicants.            --- Michelle
To Sherry Wang
I often forget you were young like me once, having fun times with friends and figuring out your life. Thank you for dedicating your life to a better future not only for yourself, but for me even when you weren't expecting me.
I honestly didn't enjoy your strictness and discipline for me as a child, but more and more, I'm able to see that my strongest qualities have come from you. Your passion for watching not only your kids but other kids succeed to their highest potential is overwhelming.
From Sherry's daughter Joy
You care so much for people and are so genuine in weeping with those who weep and rejoicing with those who rejoice, like Paul writes in Romans 12:15. It's crazy to see how in the course of 5-6 years, your business driven on passion and love has flourished. There's a lot for me to live up to, but I have no doubt you'll be there in every step of my life, no matter how difficult it is.
Thank you for loving me the best way you know how 
❤️ I love you, happy mothers day!
-- Joy Tang, Sherry's daughter   May 14, 2017

Thank you for the consultation yesterday! 
It was definitely very inspiring for me to hear you speak and analyze my profile for me. You gave me a lot of helpful ideas about how to approach the application process and where I can further develop my abilities and involvements. I will focus on working on my program for minorities and --- for now. 
The --- link you sent me is very amazing. I will try and make some of these models and create a website for it. 
Thanks for all the help and the great ideas! I hope we keep in touch 🙂 
Best, --N. X. (She was accepted by Stanford, MIT and all UCs.)
Dear Sherry,
Thank you for accompanying me through this jouney and pushing me to be better. I am truly grateful for you giving me confidence and certainty and direction in this chaotic time of my life. You are an angel. You give more than words. You give possibility, you inspire dreams, and you set an example of how to give love. I will be sure to pass on this kindness and warmth to people all around me. Thank you for all the invaluable lessons and experiences. Keep inspiring youth like me but don't overwork yourself.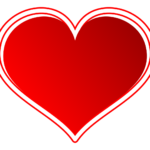 E. G.
Dear Sherry 阿姨,
I can't believe these 4 years are almost over--It's definitely been a journey! Thank you for your endless guidance and advice on everything in these past years: you have allowed me to show and achieve a better self. The college application precess is truly brutal, and I am very humbled and grateful that a wonderful school like Princeton has accepted me into their class of 2022! I remain happy and excited by my results; if I were to have a regret, it would be that I did not perform better in my more-top-tier schools' acceptances considering how much effort that you, Miyuki, and my parents put into my success. Once again, sincerely, thank you for all the opportunities and encouragements you have taken the time to offer me. I will take my fighting spirit and enthusiasm to Princeton well and surely keep in touch! 谢谢!!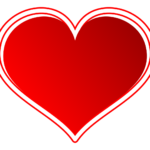 J. L.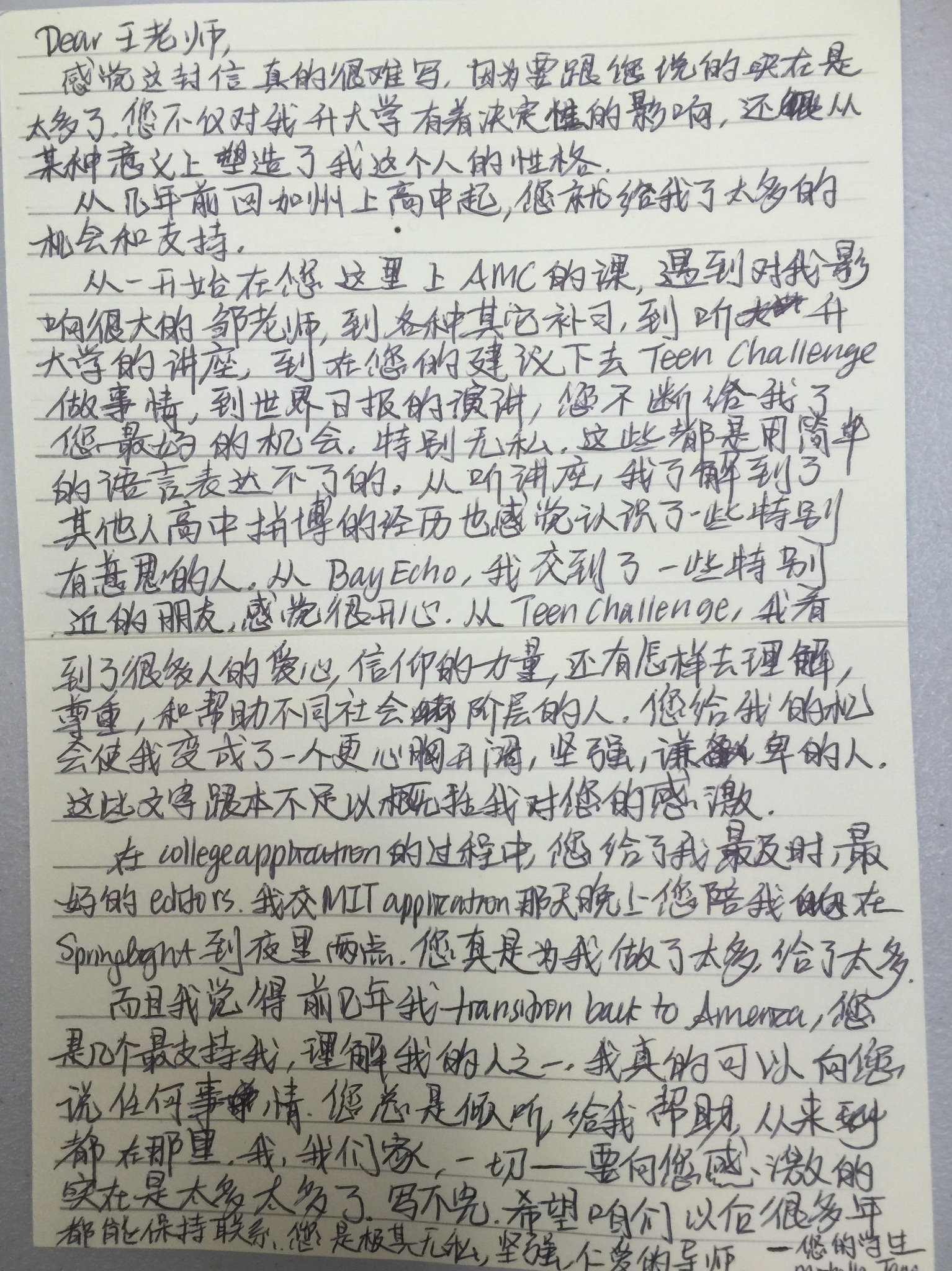 M.T. was accepted by Columbia, UChicago and all UCs)
Dear Sherry, Thank you for helping me (among so many others) in this trying time! I'm very interested to have someone as capable as you guard my back and help me through the college application process. You've definitely given me more peace of mind than you'd think, as well as so many more opportunities to excel. Thank you !!
We found out about Springlight when I was worried about my son's college admission. I am glad I found them. The owner of SpringLight, Sherry, is a most wonderful person. She is dedicated, caring and sincere. She is very knowledgeable about the college admissions process and what the admission officers are looking for. Sherry had a good sense of what to say in the essays and helped with the entire application process. I am very happy that SpringLight helped our son enter his number one college. I strongly recommend SpringLight as one of the places to go for the college admission process.   -- Mrs. Rukshini Segaran (Her son was accepted by MIT)
The first time I went to SpringLight Education was to get help in my writing for my APLang class. I am so glad that I found this spot because the tutors are definitely there to help you and they are well versed in what they do. By the end of the semester, my writing skills improved a lot. After that, I signed up for their college counseling. Through SpringLight I was able to get into my dream Ivy League school. The owner of the business, Sherry, is unlike any other counselor you will find. She goes out of her way to find opportunities (internships, work, etc) for her students and pays attention to every single one of them. This kind of attention is rare to find. Sherry and all the college advisors at SpringLight are very knowledgeable about the college admissions process and have many resources to get you/your child to where they want to be. They are detailed in their work and make sure that the student is happy with every aspect of their admissions process. Through the quality of the edits and their efforts that they put in, I can safely say that SpringLight is the best place to go. -- K.M. (She was accepted by Cornell)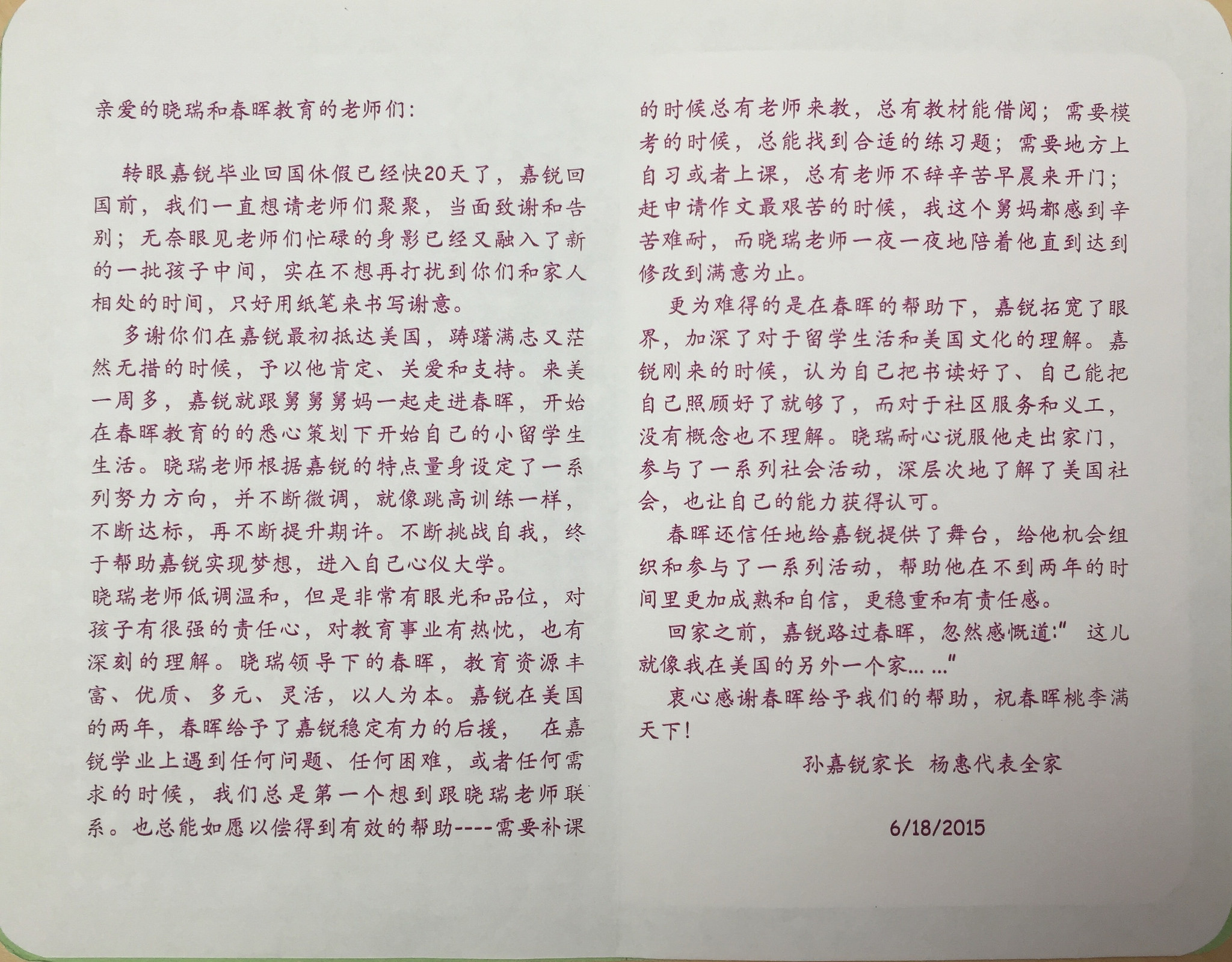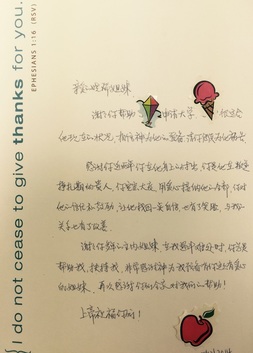 感謝 神,因著妳的愛心幫Jerry找到這麼好的學校,希望 神的看顧孩孑能在大學裹怏樂的學習。C.L. 09/12/2013

晓瑞阿姨好,我現在終於要畢業高中了,所以我想要謝謝你這幾年幫助我這麼多。從更我解釋我不了解的東西,到培我一起選大學,到大學申請。。。     Jerry W. 06/06/2013, (Jerry W是个ABC,他总是试着用中文和我们交流。-- Sherry Wang)

Whenever I need someone, Sherry is here. Always. What I love about Sherry is that when she knows something, she explains it extremely thoroughly and opinionatedly to get heir point across, and when she does not know something, she has the passion to go and look for it immediately. I see and believe that she is not only doing her job, but also truly caring about my future. She calls my mom continuously  "How did Emily do on her SAT?" or "How far is she in her college applications?" or "How are her grades? Has she studeid for her finals?" She calls my mom because she worries about me, and wants to help me. That shows how she really puts her heart into her job, and her care into her abilities to help. Thank you Sherry.   12/05/2012               
我和晓瑞纯粹因Bayecho的活动认识。这几年来,亲眼见她在这个园地辛勤耕耘。更可贵的是她不仅精于子女教育,还乐于助人。我每每遇到难题,第 一个反应就是打电话给她,每次都得到实际的帮助。她的博客非常实用(hotchili, ecollege), 不看就亏了。晓瑞是个实在人,她的建议你没听会误事的,这是我亲身体会。她不是羊妈,也不是虎妈,是鹰妈,用自己的翅膀托着孩子学飞,最后让孩子自己展翅升腾。太敬佩了。       11/30/2012

今天得到通知,女儿Early Action 被芝加哥大学录取了。虽然没有最后决定是否要上,但这是她最喜欢的选择。再次谢谢晓瑞。她的大儿已经进了芝加哥大学,给了我们不少帮助!   12/18/2012
今天太激动了。女儿被录取的同时,拿到很丰厚的Financial Aid Estimate. CSS我是请晓瑞帮我review的, 谢谢晓瑞。更要感谢上帝,他的供应丰丰富富,超出我的所想所求。     12/18/2012
Dear mom,
All my life, you've been there for me. No matter what I did, no matter what situation I was in.
Yet the best I can give you is this letter. I do not carry any monetary value, but I hope you can still find value in this.
You're always willing to help me when I need you, always willing to sacrifice for me.
I don't know how to thank you, because I can never thank you enough.
I'm sorry for the time I've angered you, when I did wrong. Now I know why you didn't want me to do what I did. whatever you do, you do it so I can live better, so I can live a happier life.
I'm sorry for questioning you when you were right, and I was wrong. I hope I can remember that you've always looking out for me, and you're not doing things for your benefit, but rather mine.
Thank you for your teachings that you've passed on to me. Not just the teachings that are related to school, but also the teachings on life and morals.
Thank you for your cooking--even though it's what you detest the most, you do it out of love for me.
Thank you for guiding me on my spiritual path--without you , God might seem farther.
Thank you for caring about me when you weren't doing well yourself--when you were busy, when you were sick, when you weren't having a good day.
There's so much I can thank you for, because you've given me so much.
You're the most awesomest mom ever 🙂
With love from your son.
Peter. (Sherry's older son) 12/14/2008