Stand Up, Stand Out - College Interview Workshop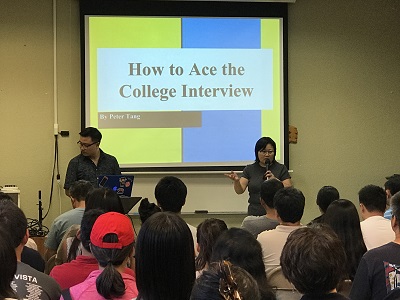 For customized prviate college interview coaching, please contact with Spring.Light.Edu@gmail.com
$35 for video only
Interviewing may seem like a simple task but in reality is complex and can deeply affect the outcome of your application. Knowing how to present yourself as a qualified candidate that stands out from the crowd is an important, and increasingly difficult task in this competitive environment. College interviews are no different, and perhaps harder. Many people only prepare right before the interview, which is not enough time. In order to interview well, you must prepare months ahead of time to identify and tackle areas you are weak in.
Building your interview skills brings benefits in many areas. It helps you form better interactions with others every day, and improves your critical thinking and social skills.
Peter Tang, an experienced college interview coaches, will host an example interview that will show you how to make a great impression!
This seminar will cover:
The proper interview etiquette
Common interview topics
How to address interview topics
Making a lasting impression on the interviewer
And more!
Students and parents should leave this seminar with many benefits. You will:
Feel very comfortable about the interview process
Know exactly what and how to prepare for each interview
Discover how each to tailor your interview for each college
Understand how to stand out from other applicants
Learn what easy mistakes to avoid that could make or break an interview
Find out much more!
Peter Tang is also an alumnus of the University of Chicago, and has graduated with a degree in economics and a minor in computer science. He has helped many high school students with college interviews in the past, and many of his students have been accepted into top colleges.